Benefits of Medical Cannabis
The benefits of medical cannabis are growing daily as more and better research continues to be done. The health benefits of cannabis have been largely undocumented for over a century because of federal laws prohibiting cannabis use in any form.
Cannabis or marijuana laws also banned the growing and testing by researchers, which has left a 100-year hole in the research on cannabis and hemp. All in all, the health benefits of cannabis are becoming wider known on a global level like we have not seen before. Cannabis uses are on the rise as advanced technologies like those utilized by Kaiser Day Cannaceuticals allow for healthier consumption methods for cannabis patients.
Medical Uses for Cannabis
The medicinal benefits of cannabis are the topic of this paper. Read on if you are interested in learning the medical benefits of cannabis.
Cannabis Health Benefits
The truth about cannabis health benefits continues to interest researchers worldwide. The number of medical cannabis uses that are helping people better manage their medical conditions is increasing rapidly. It will not be long before the benefit of cannabis reaches all levels of society as the trend for more natural medicines continue.
Is Cannabis Good for You?
Cannabis research continues to expand our knowledge of whether cannabis is good for you. The short answer is a resounding 'yes. Is it great for every ailment? No, not even close. But cannabis has many therapeutic uses, and new cannabis health benefits being discovered at a record pace.
CBN Vape – Learn about CBN Vaping Products
Medical Conditions That Benefit from Medical Cannabis?
If you are wondering what medical cannabis might help with, here are a few of the uses of medical cannabis: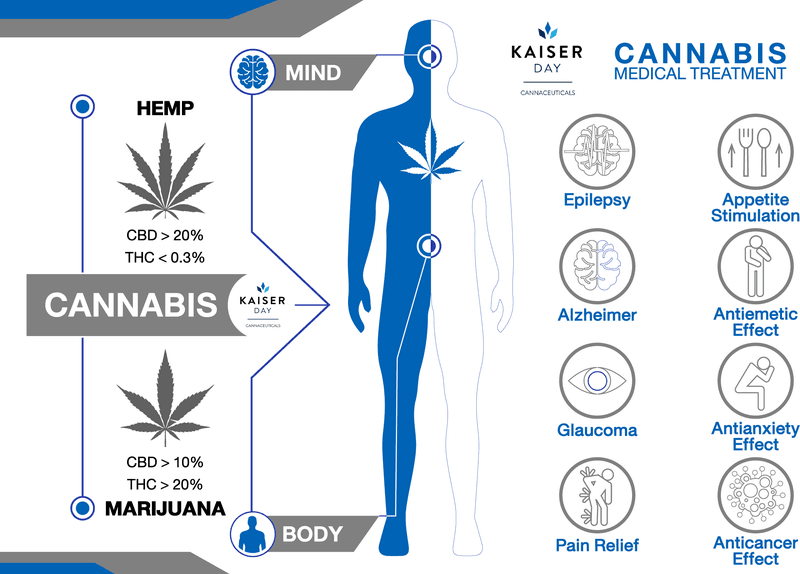 Uses for Medical Cannabis
What does cannabis treat?
ADD/ADHD.
Alzheimer's Disease
Anxiety
Arthritis
Auto Accident(s)
Back & Neck Problems
Brain Injury
Cancer
Chronic Nausea
Chronic Pain
Colitis
Crohn's Disease
Depression
Eating Disorders
Epilepsy
Fibromyalgia
Gastrointestinal Disorders
Hepatitis C
HIV/AIDS
Irritable Bowel Syndrome
Kidney Failure/Dialysis
Migraines
Multiple Sclerosis
Muscle Spasms
Muscular Dystrophy
Parkinson's Disease
Post Traumatic Stress Disorder
Severe Arthritis
Sexual Dysfunction
Sleep Disorders
Spinal Cord Injury/Disease
As the medical uses of cannabis continue to be discovered, the medical profession is more readily prescribing cannabis as a treatment.
Medical Cannabis Articles
If you are interested in learning more about Medical Cannabis, check out our blog page.
Kaiser Day Cannaceuticals – Facebook Page
Does Medical Cannabis Have THC?
It depends on the ailment or condition you are trying to treat or manage better. THC is an essential element in the entire cannabis plant spectrum of products. The medical use of cannabis continues to become widely accepted, partially because it contains THC.
Medical cannabis without THC is sometimes referred to as hemp. This is because hemp only contains trace amounts of THC but still has some therapeutic compounds like CBD and CBG. The small amount of THC eliminates the chance of getting "high from THC."
One caution about medical cannabis THC levels should be made. According to new research, more than 90 percent of the legal cannabis products offered in medical dispensaries in the US are much stronger than clinical studies have shown doctors recommend chronic pain relief.[i]
How do you get medical cannabis?
Suppose you are interested in getting medical cannabis . In that case, we suggest connecting with your doctor or health care professional and see whether cannabis therapy using products by Kaiser Day are right for you.
Medical Benefits of Cannabis
If you're interested in reading more information on the medical benefits of cannabis , then check out our blog at www.kaiserday.com/articles.
[i] https://www.europeanpharmaceuticalreview.com/news/115909/over-90-percent-of-medical-marijuana-in-us-contains-high-levels-of-thc-study-finds/